Stream of consciousness Oscar fashion review - ready set go: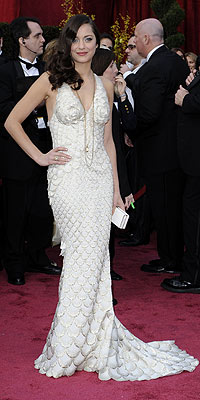 Above: Mario Cotillard in Jean-Paul Gaultier.
Consensus: This may be partially based on my lifelong dream to be a French girl - but I want to be Marion Cotillard.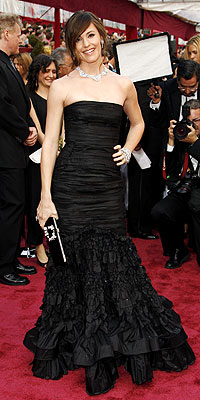 Above: Jennifer Garner in Oscar de la Renta.
Consensus: She looks like a hot chick. I like the necklace.
Above: Ann Hathaway in Marchesa.
Consensus: She looks beautiful. This makes me feel better about being so pale.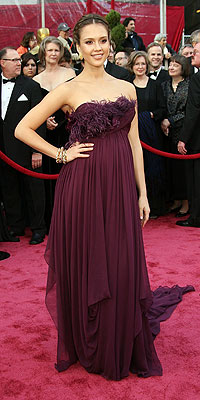 Above: Jessica Alba in Marchesa.
Consensus: She's pregnant. And in Marchesa. With braids around her head. This annoys me on a lot of (possibly irrational) levels.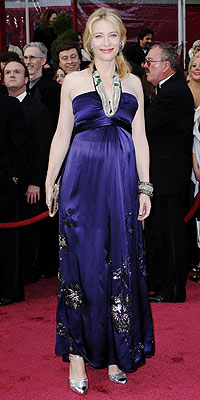 Above: Cate Blanchett in Dries Van Noten.
Consensus: Pregnant also, but just so much cooler. But I'm totally on Cate Blanchett's side, no matter what she's wearing.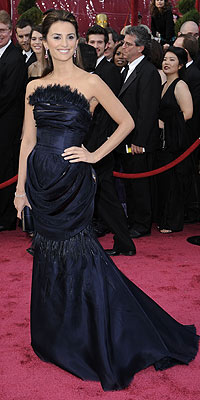 Above: Penelope Cruz in Chanel Haute Couture.
Consensus: I'm OBVIOUSLY on board with navy Chanel Couture.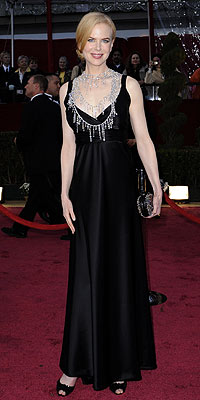 Above: Nicole Kidman in Balenciaga with a L'Wren Scott necklace.
Consensus: I didn't know it was possible to wear
custom Balenciaga and almost 1,400 carats of diamonds and still look this boring
.. I am shocked.
NOW: C'est La Mode's FIRST EVER guest blogger!
Debbie Saslaw, on Miley Cyrus: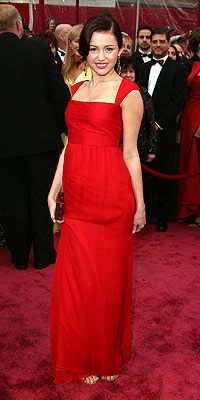 Above: Red dress
Consensus: But like, honessssly... Miley is going to be quite the babe when she is old enough to do a "Last Sitting" spread. You don't have to wear 3-D glasses to see that LiLo has it coming to her. How old is she now? 12? 13? Sometime between her first abortion and her third DWI, we'll be looking at this picture and wondering what ever happened to this little red chicklet. She's got the best of both worlds: classic Hollywood glam, and
Myspace chic
.