No, I haven't seen it yet. I intend to, but I'm just not superfan enough to try to go in New York City on the first weekend it comes out. I can't imagine it will be very good, but I am looking forward to seeing the clothes (obviously).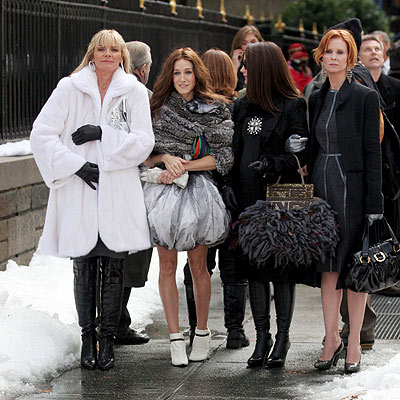 Pat Field is amazing, and I still am looking forward to seeing her creations on the big screen even though I've probably already seen every outfit the girls wear via paparazzi shots during the movie's filming. However, the Times' Eric Wilson
is making me a little concerned
that even the clothes are going to let me down:
"But in the film the characters are now four years older and, in a disappointing way, their styles appear to have changed into one: the offbeat, orgiastic, do-it-yourself madness of Carrie, the dominant female. It is not only that they now dress alike. In every scene the women are practically coordinated by both color and style, as if they had received a morning memo detailing the day's dress code. Let's all wear primary colors to a jewelry auction! Let's all wear psychedelic hippie dresses on a trip to Mexico! Let's all wear smart black-and-white ensembles and fur coats to a fashion show!"